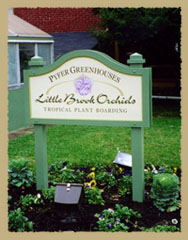 Little Brook Orchids provides a variety of plant services for orchids and other household and tropical plants.
REPOTTING SERVICES
If you call ahead, we may be able to repot your plant while you wait. The fee includes the potting mix and is based on the size of the pot.
Bring your plant to us for repotting, and we will call you when it is ready to go home.
Repotting Fees (Labor & potting mix only –pot clips, pot stakes, and pots extra)
$5/plant up to 6" pot
$6/plant 7"-8" pot
$8/plant 10"-12" pot
$15/plant 16"-24" pot
$20/plant 26"-28" pot
BOARDING SERVICES
Leave your large outdoor patio plants with us during the winter months. By May, they will have grown and will be ready to look beautiful on your deck or patio.
While you are on an extended vacation, we will be happy to care for your houseplants in our greenhouses.
Board your orchids with us between blooming cycles. We'll call you when your orchid is ready to bloom.
Fees are based on the size of the pot/plant:
BOARDING FEE – Includes pruning, fertilizing and insecticide treatment
Bench plants & small hanging plants (up to 10" pots):

up to 4" pots: $1/month
5"-7" pots: $2/month
8"- 10" pots: $4/month
Floor plants & large hanging plants:
11"-14" pots: $15/month (any plant 18" or taller &/or 24" wide)
16"-24" pots: $20/month
26"-36" pots: $25/month
(Boarding is subject to space availability. We reserve the right to deny service for any plant not meeting our health and condition standards.)
DIAGNOSTIC SERVICES
Bring your sick orchid to us, and we will do our best to determine what it requires to be healthy.