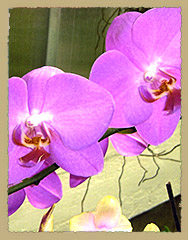 All of the supplies that an orchid grower would need can be found at Little Brook Orchids. We stock a large variety of supplies for growers of all levels of interest and skill level. Our selection includes:
Aussie Gold Orchid Mix
(AGOM)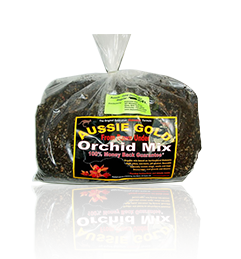 Aussie Gold is the potting medium Little Brook Orchids recommends for orchids. It is based on horticultural grade diatomite, a natural rock product mined in Australia. AGOM augments the properties and actions of the diatomite to provide oxygen, water and micronutrients to produce a vigorous root system, a strong plant and beautiful, healthy blooms. Some features of AGOM:
Retains moisture that is released to the plant between waterings
Emits micronutrients to the roots between feedings
Allows sufficient oxygen to the root system
Provides a sterile, pH neutral, & non-toxic environment for the plant
Repels slugs and snails naturally
May be reused since it does not break down
Prevents root rot
Little Brook Orchids produces AGOM on site. It is sold in 10 lb. bags (damp weight) for the following amounts (plus shipping):
| | |
| --- | --- |
| 1-3 bags: | $19.95/bag |
| 4 bags: | $18.00/bag ($72.00) |
| 5 bags: | $17.00/bag ($85.00) |
Other Supplies
Shop our e-commerce store for your orchid supplies. SHOP NOW!
In addition to a variety of orchids and Aussie Gold, we carry supplies including:
diatomite
fertilizer
plant clips
plant stakes
plastic pots (all sizes)
terra cotta pots
Physan-20
Superthrive
fir bark
books
Contact LBO for pricing not listed, shipping costs, and availability.